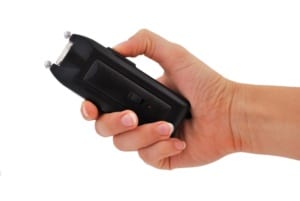 If you want to own one of the best self-defense weapons, then you'll want to consider purchasing a Taser or a stun gun. Both weapons have the potential of completely immobilizing an attacker so that you can get away quickly.
There are different voltage options, contact options, and other features to consider with this self-defense option, which is why the best Taser and stun gun reviews can help you to pick out the right weapon for you.
One Chart for the Best
If you know that this is the best self-defense weapon for your needs, then here are the top-rated options available right now.
What Is the Difference Between a Taser and a Stun Gun?
Although they are often marketed and sold in the same self-defense category, a Taser and a stun gun are two different defensive weapons.
A stun gun has 2-4 points of contact that are affixed to the device. It is an electrical device that sends a current between the points of contact. When the points of contact are pressed against the skin of an attacker, the electrical charge goes between the points of contact through the body.
You may or may not see an electrical arc fire between the points of contact when you engage the product on its own. The device must be pressed into the attacker for it to be effective. Thick clothing may prevent the contacts from reaching the skin, which would then limit the effectiveness of the device.
A Taser is also an electrical device, but it fires a set of charged projectiles at an attacker that are connected by wire to the self-defense weapon. Personal-use Tasers may only have 1 projectile, while law enforcement models may have 4+ projectiles that fire.
You can personally own a law enforcement quality Taser, but many jurisdictions require you to pass a skills-based training class to be authorized to possess or carry it. Low-power Tasers may have different requirements. Depending on the model, you may be able to fire a charged projectile at an attacker who is up to 30 feet away.
It should also be noted that some Tasers can function as a stun gun if the attacker is too close for you to fire the charged projectile at them.
What Are the Advantages of Owning a Stun Gun?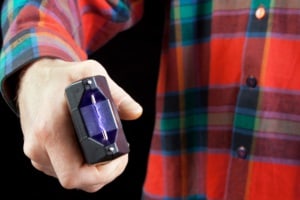 Stun guns are very affordable. Even a high-quality stun gun will typically cost less than a firearm or a Taser. Entry-level stun guns are comparable to the cost of eating lunch at your favorite place. That means self-defense tools are affordable for virtually anyone right now.
No training is required to use a stun gun. You just jab the weapon into an attacker and make sure the device is active. Most stun guns can be used straight out of the box and you're not required to register most stun guns in most jurisdictions in the United States either.
There is no background check required for most stun gun purchases. Only specific jurisdictions may have this requirement in place. You may wish to check local laws to ensure this advantage applies to you.
A stun gun is small, easy to control, and typically comes with a rechargeable battery. You don't need to replace any cartridges when you use the weapon and a direct contact voltage will typically be higher with this option than other self-defense tools that feature an electrical current. 
What Are the Advantages of Owning a Taser?
The advantage of a Taser is that it can stop an attacker at some distance. Once the electrical charges impact the skin, the voltage will immobilize the attacker almost instantly.
Tasers are comparable in cost to a firearm. A basic self-defense tool in this category that is cleared for personal use will typically cost about the same as a basic handgun or rifle.
The training to use a modern Taser is quite minimal. Many manufacturers include video training tools and practice targets to help you become familiar with this self-defense tool. For jurisdictions that require formal training, the costs of completing this certification are often less than what a firearm training course would be.
Some jurisdictions do not require you to register a Taser (like you would be required to register a firearm). However, in others, you may be unable to use the Taser until it is registered, which typically requires personal information to be entered. A background check may also be required.
Tasers may be heavier and more difficult to conceal, but they also create a visual deterrent. An attacker will typically want to approach the easiest mark possible. Having a Taser within reach and being aware of your environment can often stop an attack before it even starts.
Voltage: Why It Matters for Tasers and Stun Guns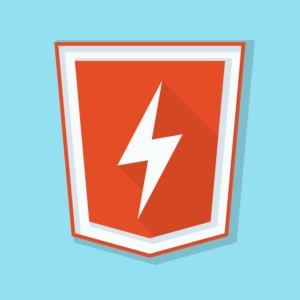 When shopping for an electrically-based self-defense tool like a Taser or a stun gun, the voltage output of the product should be one of your first considerations. When reading through the best Taser and stun gun reviews, look for the final voltage number first.
Higher voltage means an attacker will be immobilized with greater speed. High voltage levels give you an opportunity to incapacitate an attacker through clothing as well. Many stun guns can deliver 30,000 volts and that can give you an opportunity to get away from the shock of the experience.
For effective immobilization, however, you'll need to purchase a Taser or stun gun that can deliver a minimum of 1 million volts. Anything less than that voltage level will not have an immediate effect on an attacker.
How the voltage is generated is important to consider as well. Many stun guns and Tasers use a power source that is based on NiCd batteries. Although this can be effective for an escape, incapacitation is better when a NIMH battery is used. Nickel and metal hydride create a stable power source that delivers a consistent voltage when being fired.
Then you'll want to look at the amperage of the stun gun or Taser that you're considering. A low amperage won't have knock-down power, even if a high voltage level is being delivered. High amperage moves a Taser or stun gun from a self-defense weapon to a deadly weapon that could be banned.
Your Taser or stun gun must deliver less than 5mA to be considered a self-defense weapon.
Features to Consider
If you're thinking about using a Taser, then your available features are basic. You'll be looking at how far the charges can be fired, at what voltage, and what amperage is being used.
Stun guns can come with several potential unique features that increase the value of the defensive tool. Here are just a few of the options you may find when reading through the best stun gun reviews.
Flashlight. Several manufacturers have incorporated a flashlight in the front of the device to give you an extra defensive option. Many look like an ordinary LED flashlight. Some offer more than 500 lumens so you can blind the attacker before hitting them with the stun gun and then getting away.
Panic Alarm. Manufacturers have also begun to incorporate panic alarms that can be activated if an attack is imminent. The noise is loud enough to attract immediate attention to yourself, making it possible to not even need to use the stun gun to disable the attacker.
Disabling Pin. The worst thing that can happen is having the attacker get the stun gun away from you and then use it on you. To prevent this circumstance, some models have incorporated a disabling pin so that if the safety strap is pulled, the stun gun will become inert.
Some stun guns also come with extended reach wants that can give you up to 2 feet of space to contact an attacker. Rechargeable batteries are a must-have feature as well. The best batteries will give you a standby time of at least 60 days and should charge within 8 hours. Most batteries will be protected by a warranty that will give you at least 100 full recharges or a replacement so you can protect your investment.
What Are the Costs of a Taser or a Stun Gun?
Entry-level stun guns are one of the most affordable self-defense weapons you can own. Compact stun guns that deliver under 100,000 volts can be found for less than $20. These stun guns may come in different sizes, shapes, and colors so you can find one that best suits your needs.
If you're looking for instant stopping power from a stun gun, then a model that delivers 1 million volts and close to 5mA will typically cost about $150.
Tasers are more expensive, with entry-level models typically priced at $300 minimum. Models that are designed to be used by law enforcement personnel can easily cost more than $1,000. For self-defense purposes, most will find that a Taser priced below $750 will have enough power to get the job done.
Our Reviews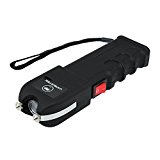 There is a lot of good stuff going on with this little stun gun. It has a LED flashlight, but that's just the beginning of the features. It has a snatch prevention design that allows the shock plates on the side of the unit to activate if someone grabs it from you. The electrodes are larger and sharper than other models as well, which means you can go through a layer of clothing with this product and still deliver a solid charge. It's rechargeable, has a lifetime warranty, and gets the job done.
Click here to find the best price on Amazon.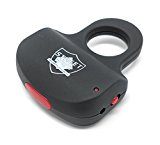 This is the strong stun gun that you've always wanted for self-defense. It's strong enough to work through a pair of jeans. It is still a discreet stun gun as well, but gives you a different method of handling the device than your typical product of this type. This stun gun isn't designed for heavy or repetitive use, but for that one moment when you need something like this, it can give you the escape option that you may require.
Click here to find the best price on Amazon.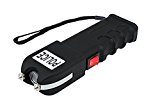 The ergonomics of this affordable stun gun is one of the best we got an opportunity to see. The grip is firm, but still comfortable, and the indentations for the fingers are deeper than most other models. This gives you a tight grip that allows you to place the stun gun with force on an attacker. Charging occurs with an included cord so you don't have to worry about replacing batteries. The electrodes are nice and sharp and can be used as a window breaker if needed. Backed by a lifetime warranty, this is a solid option to consider for self-defense today.
Click here to find the best price on Amazon.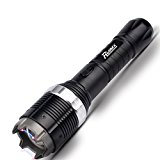 This adjustable stun gun gives you multiple features that make it a very versatile tool. Not only does it provide a 10,000 KV stun, but there is also a 300-lumen flashlight that offers 3 light modes as well. The housing for the stun gun is aluminum, which gives you a nice anti-skip design. It's small enough to fit into a pocket or backpack, while the weight makes it appropriate for daily use if needed. Not a fan of the safety switch on the tail because it can be accidentally hit from time to time, but otherwise this is a great self-defense tool to use.
Click here to find the best price on Amazon.
This is easily the pound-for-pound best deal in the self-defense market today. For less than a decent burger, you can receive a powerful stun gun that has a disable pin and aLED flashlight. The non-slip rubber coating gives your entire palm a nice grip that allows for accurate placement. The rechargeable battery and convenient size of the stun gun let you take it anywhere and use it in virtually any weather condition. This self-defense tool is one that shouldn't be ignored.
Click here to find the best price on Amazon.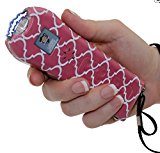 With the ability to provide up to 21 million volts, this rechargeable stun gun fits nicely into the palm of the hand. It also contains a panic alarm that sounds at 120 decibels, giving you a second level of defense if necessary. A safety pin is included to prevent an attacker removing it from you to use it against you. The lanyard attaches to the pin and disengages consistently. A LED flashlight is also incorporated into this design. It's light, gets the job done, and won't break the bank. Definitely worth taking a look.
Click here to find the best price on Amazon.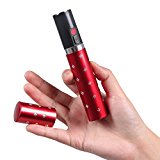 This stun gun might look like a lipstick, but it'll have a nasty shock for you if you put it up to your lips. The inner stun technology for this device means it has no visible stun probes, which means it won't be taken seriously until it makes an impact. A flashlight included with the design gives you a 180-lumen result for a quick light when it may be needed. It's more than a great gift. It is something that could literally save someone's life. Why wouldn't you make this small investment?
Click here to find the best price on Amazon.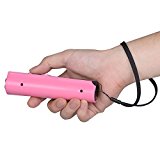 This is another miniature stun gun that gives you a simple, but effective way to defend yourself. It offers snatch prevention and shock plates that can incapacitate an attacker who does recognize this weapon. The electrodes are sharp enough to penetrate through even thick clothing, giving you the chance to defend yourself in almost any situation. The rubber coating keeps the device firm in the palm and you even get a flashlight with it too. You can even recharge it by USB.
Click here to find the best price on Amazon.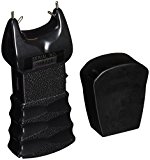 This dual defense system might be an investment, but it gives you a multi-purpose defensive tool. Not only does it function as a stun gun, but you also receive a strike Taser cassette that has a reach of 17 feet. It's small enough to fit in your purse or a handbag, but delivers a strong enough current that it can penetrate a leather coat. All you need to do is make an impact on the body of the attacker anywhere and you'll be able to incapacitate them. It's portable, simple to use, and gives you the versatility you might need.
Click here to find the best price on Amazon.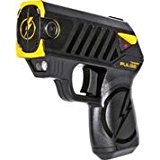 If you're looking to upgrade from a stun gun to a Taser, then this entry-level model is worth a look. It offers a lithium power magazine and fires two live cartridges at a target. A laser LED makes sure your aim is true. A soft holster is included with the product as well. It's a high-tech, subcompact self-defense option that is compliant with many concealed-carry designs that are available today. An attacker can be reached from 15 feet away and immobilized for up to 30 seconds with this tool.
Click here to find the best price on Amazon.
The best Taser and stun gun reviews will help you find the right self-defense tool that will help you get out of a tough situation. Being proactive means more than keeping your nose out of your phone. It also means equipping yourself with the right tools to defend yourself. These options will make sure you can make your own luck should an attacker set their sights on you.